After spending two months of (slow) travel in Colombia, here's my list of the best places to visit in Colombia and what to see and do when you're there.
This article isn't intended to be a detailed guide to the country, more of a taster of the things to do in Colombia during a first visit. Whether you have a week, a month or more, here are some of my highlights from my visit to Colombia.
Best Places to Visit in Colombia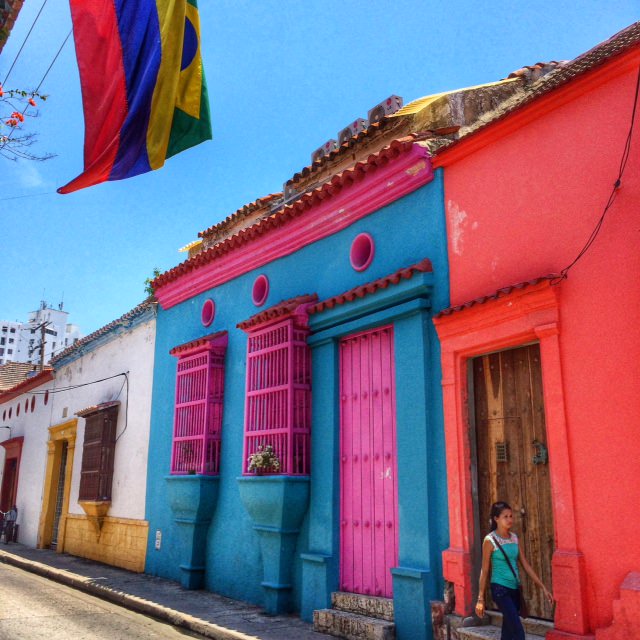 Note: these places listed below are in broad geographic sequence from north to south – they are not ordered by preference!
Cartagena
A beautiful Spanish Colonial walled city with high-end restaurants and plenty of sights, make sure you have enough days to explore Cartagena. It was the starting point for my trip to Colombia, and not only did it turned out to be a great and easy introduction to the country, it was one of my favourite spots overall. In fact, I liked it so much, that when I got a chance to pop in for a second stay, I jumped at the opportunity.
Wander the old town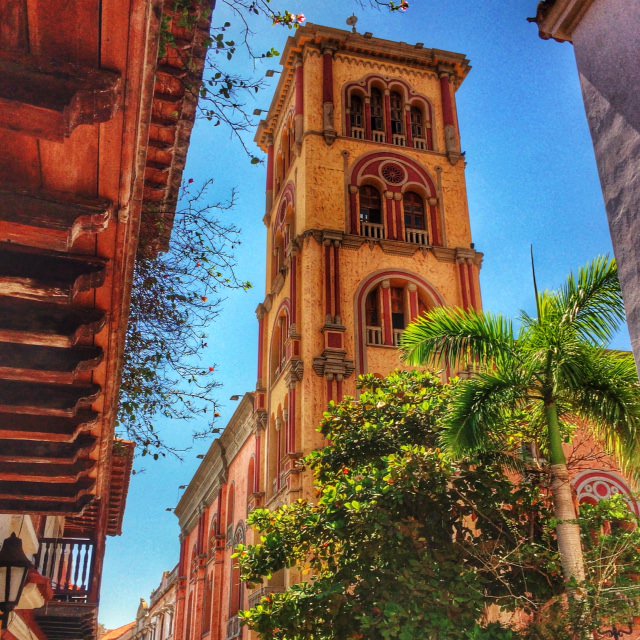 Cartagena is not short on sights and getting lost in the old town is perhaps one of the best ways to explore. That said, Plaza Bolivar, the Spanish Inquisition museum and the Convent of San Pedro Claver were three of my favourite sights in Cartagena.
Did you know: there were only three locations in all of Latin America where the Spanish Inquisition Tribunal took place – Lima in Peru, Mexico City in Mexico and Cartagena in Colombia.

Pro Travel Tip: if you're in the city on the last Sunday of the month, entry to the museums is free.
Eat – a lot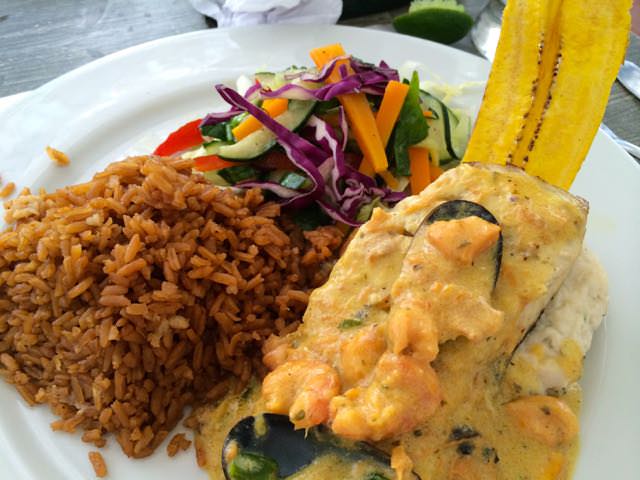 I'll be honest, after two months in Colombia, I developed food depression – some sort of protein served with dry rice, solid beans and slimy salad doesn't sate my appetite, particularly when you face the same stuff day after day. But the food in Cartagena is a different story. From glorious local food to high-end bistro options to delicious street food, Cartagena is a world apart when it comes to Colombian dining.
My favourite places:
Carmen: reputed to be one of the best restaurants in the city (and currently rated #1 restaurant in Cartagena on TripAdvisor)
La Mulata: if all Colombian food tasted this good, surely it would go global.
The street food – arepas stuffed with cheese and the ceviche and seafood cocktails are particularly good.
Visit Playa Blanca
The beaches in Cartagena are sadly  a disappointing shade of dull brown. Despite fronting the Caribbean, Cartagena's beaches are lacking…Playa Blanca (translation: white beach) is a different matter and can be reached by day trip from Cartagena.
Where to stay in Cartagena

On a budget: I stayed at El Viajero which was clean and well located within the old town – though if you're not a party person, take ear plugs!

For hotels: Here's a list of the 10 best hotels in Cartagena (according to Trip Advisor). On my bucket list is the Santa Clara Hotel which is one of the most luxurious options – a Sofitel hotel located inside a former convent complete with 17th Century architecture. Unsurprisingly, the Santa Clara Hotel is one of the Travelers' Choice Winners for Cartagena on Trip Advisor with Radisson Cartagena Ocean Pavillion Hotel being the other winner.

Location, location, location

But, perhaps more importantly than which hotel is where (within Cartagena) to stay.

Cartagena's old town is my recommendation. Your other alternative – Bocagrande – may feature a lot of the big brand hotels and may front the beach, but the surroundings, complete with exhaust-fume filled roads and fast-food chains galore is very, very ugly. For a much more beautiful experience, make sure you stay within the walled city.

Top tours to try:

Walking tour of Cartagena with MareIvy PenaHall (this local guide gets rave reviews)

Playa Blanca trips from Cartagena

Segway Tour of Cartagena Once upon a time I thought Segways were for lazy people..and then I tried one and have since decided it's one of the most fun ways your can get around. Wheeeeeeeeeeee.

Pro Travel Tip: Humidity in Cartagena runs at about 80% and can be brutal. Build in some slow-moving days as you acclimatise and if you're not good sleeping in the heat, make sure your room has air-conditioning for the evening.
Santa Marta
First: the bald truth – Santa Marta doesn't hold much charm itself and the beaches are no more beautiful than those that skirt Cartagena, but Santa Marta does serve as a great "jumping-off" point for other locations. That said, before you cruise on through, it's worth spending a night or two to explore.
Dine Al Fresco in Parque Los Novios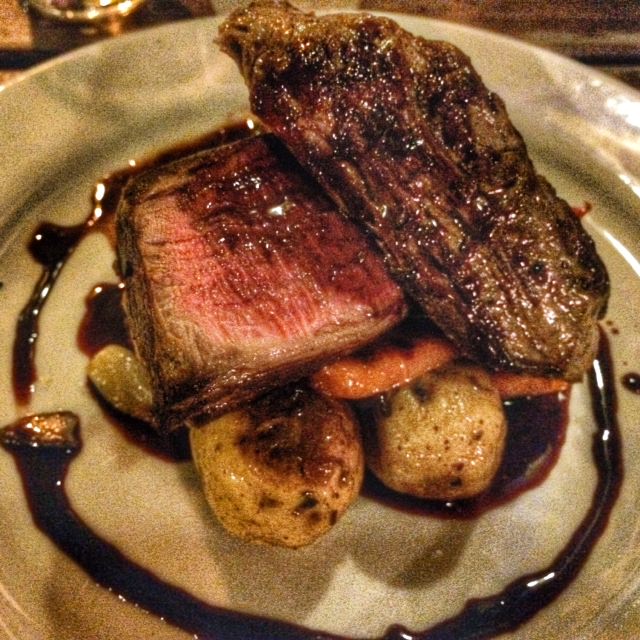 Although not especially grand or vast, the old town of Santa Marta is very pleasant at night and is the best place for great food. Spend an evening dining al fresco without the rip-roaring noise of cars and motorbikes that burden many other locations in Colombia.
I can particularly recommend Ouzo for great Mediterranean food when the chicken and rice options get too much.
Day (or night) trip to Taganga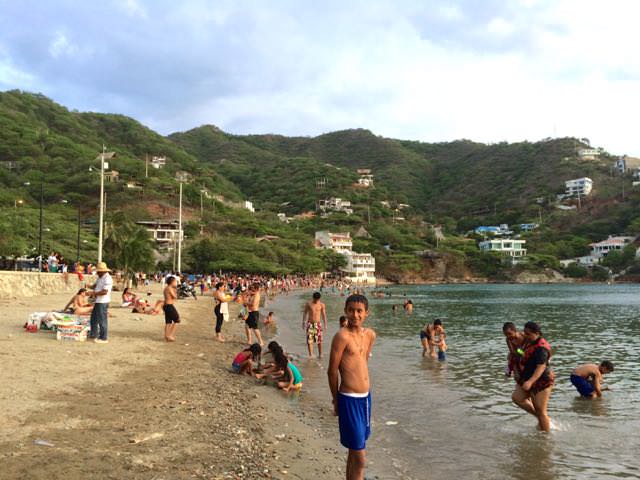 The second I lay eyes on Taganga, complete with rubbish strewn all over the beach, motorbikes pumping fumes into the atmosphere and music screeching into what little air that wasn't already filled, I knew it wasn't a place I wanted to say. However, Taganga has a kicking nightlife and is well-know for it's scuba diving opportunities. Only 10 minutes by taxi from Santa Marta, you can satisfy your curiosity without having to bunk down there.
El Mirador – a club overlooking the bay – is a favourite party spot.
Where to stay in Santa Marta

On a budget: I stayed at The Dreamer Hostel which not only includes a pool, hammocks, bar, restaurant, a kitchen and TV room, this place had some of the friendliest staff I met in Colombia. On the downside, the hostel is in a quiet, residential location but there are regular, cheap taxis camped outside and the hostel is within walking distance of a large supermarket and mall.

For hotels: Here's a list of the 10 best hotels in Santa Marta (according to Trip Advisor) and the three winners of the Travelers' Choice Awards go to: Zuana Beach Resort (that pool would win me over), Casa de Isabelle and Irotama Resort.
Tayrona National Park
If you only make it to one beach on the mainland of Colombia, make it one of the beaches dotting the coast of Tayrona National Park. Trust me: you won't regret it.
Hike through the park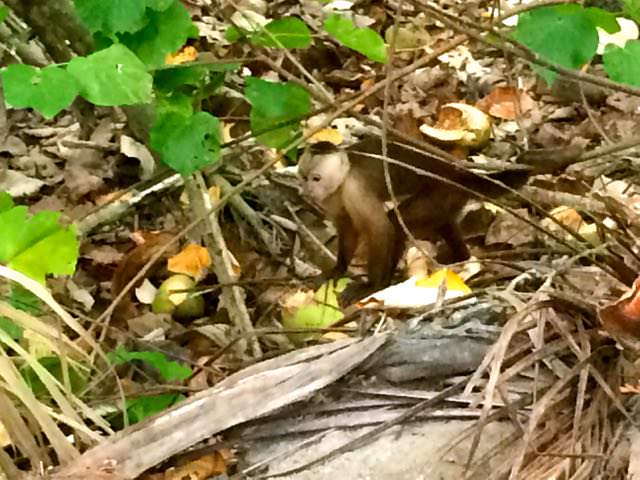 One of the best thing about Tayrona National Park is that the beaches contained within it require a bit of effort to get to. That keeps tourist numbers relatively low and makes the trails feel a bit like you're wandering through the wilderness.
Planning your trip: I used the Colombia Lonely Plane Guidebook. Although it's not filled with pictures, it's got all the details you need including train and bus routes and times as well as city maps.

If you're taking a more substantial trip through South America, the Lonely Planet South America on a Shoestring will be invaluable.
Sleep in a hammock on top of the rock at Cabo San Juan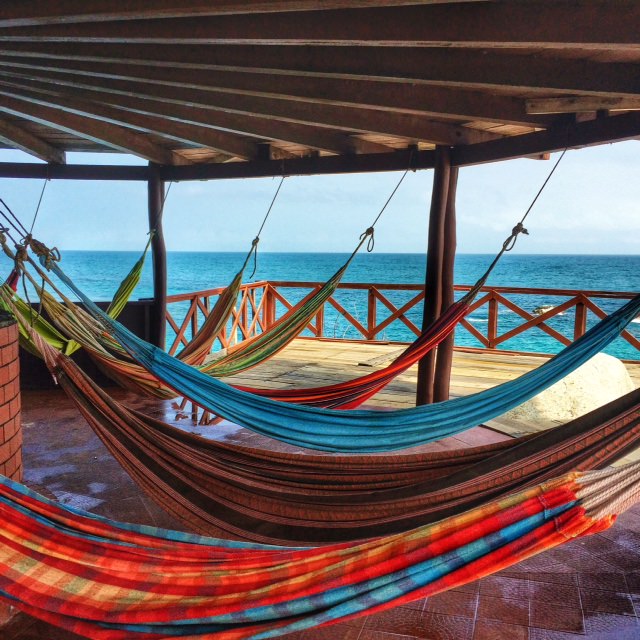 There's a small handful of accommodation within Tayrona National Park and sleeping in one of the hammocks on the rock at Cabo San Juan beach provides some of the best morning views you'll ever see.
Where to stay in Tayrona National Park

Pro Travel Tip: Hammock space on top of the rock is limited and popular. As you can't book online or in advance, start your trip to the park early to make sure you secure a spot.

If you prefer to book in advance: there are three options on Trip Advisor: Villa Maria Tayrona, Tayrona Tented Lodge, and Posadas Ecoturisticas Seineken.
Head inland to explore the nearby beaches

The double-bay at Cabo San Juan is beautiful but if you're looking for a bit more seclusion, head inland and continue around the bay. Within around 10 minutes you'll pop out at a beach that is much less crowded.
In the interests of full-disclosure (literally for some people), this is where the bold come to sunbathe nude. So long as that doesn't embarrass you too much, you'll find the nudist beach a much more placid space to spend the day. (Good news: despite it being a nudist beach, you won't get heckled for keeping your bathers on!)
Take a speed boat back to Taganga
Hiking into Tayrona was fun, but just as exciting was the speed boat back to Taganga. It saves a long trek over already-trodden ground, effectively buys you an extra day at the beach (boast leave late afternoon) and will get you back much quicker.
How to get to Tayrona National Park

From Santa Marta you can take a local bus to Tayrona National Park. Once there, you enter the park, pay an entry fee ($38,000 pesos – around £12/$19). For a couple more dollars, you can catch a collectivo (minibus) to the start of the park trails. To walk would take 15 minutes.

From the park trail, take the route towards Areciffe – a pleasant walk of around 2.5 hours through woodland. Once you reach Arrecife you can choose to rent one of the lodges, tents or hammocks. Alternatively you can continue on for a further 30 minutes to reach Cabo San Juan, where you can also rent a tent or hammock.

If you're really anti-camping, there is a four-bed room ($200,000 pesos – around £60/$100) available at the top of the rock at Cabo San Juan complete with one double bed and a bunk bed. There are also some lodges within the park.
Pro Travel Tips

The accommodation at Arrecife is superior but the beach and views at Cabo San Juan are better.
In a choice between renting a tent or a hammock, choose a hammock – with the day's sun on them, the tents get super hot.
Beware: swimming is dangerous at Arrecife. It's very safe at Cabo San Juan.
Take all the money that you'll need because there are no ATMs and you can't pay by card.
To budget, consider that hammocks are $20,000 to $25,000 per night. Breakfast costs around $10,000 and main meals cost $15,000 to $30,000. All drinks (water, beer, soft-drinks) are $4,000.
Do not go without mosquito repellant and a torch.
The showers are very "rustic" and there aren't many of them so be prepared.
Just take a day-pack – hiking into the park complete with its humidity will be punishing with anything more than 5kg on your back. Pack light.
Palomino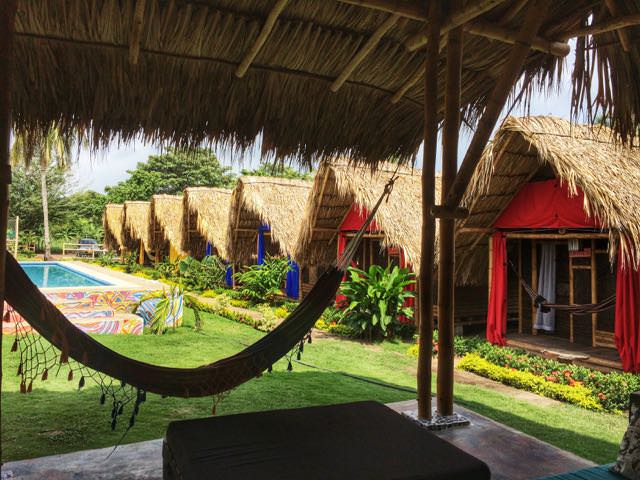 I confess that I only lasted one night in Palomino courtesy of the mosquitos that were so determined to feast on my blood that they managed to bite me through my clothes and despite my repellant.  Add a serious bout of rain and dampness hanging in the air, and you'll understand why I bailed the day after I got there.
However, assuming you don't turn up in the middle of October (during the rainy season), Palomino is a pretty, coastal escape. Not as humid or densely populated as Cartagena or Santa Marta, it's a perfect beach spot if you're looking to get away from it all.
Dwell in a tiki hut
The Tiki huts in Palomino added a real beach feel to Palomino. With hammocks hanging outside and an on-site restaurant and bar, you can certainly lose a day swinging in the breeze. (Dorms and private rooms available).
Visit the beach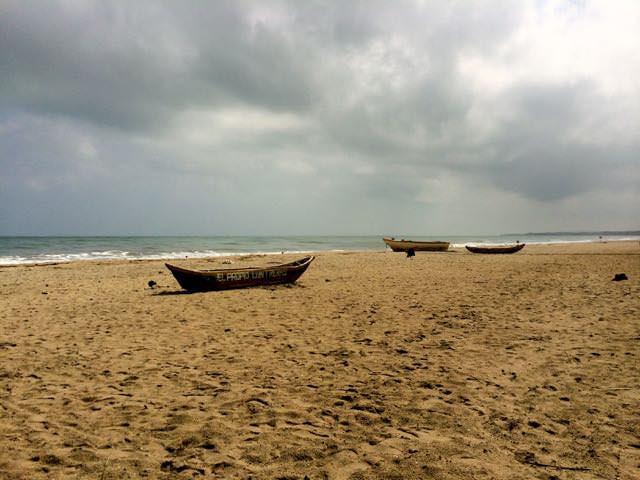 It still might not be the golden sands of the nearby Caribbean islands, but the beach at Palomino was broader, longer and had water you could swim in safely.
Enjoy the local bus from Santa Marta
I didn't see any actual chickens on the local bus from Santa Marta to Palomino but there was plenty of Reggaeton music and food vendors. At one point I was sat on a 20kg bag of dog biscuits while holding a collection of mops for a man who was hanging out of the door (no other space to stand). If you're looking for a local Colombian experience, the bus to Palomino (complete with views of the jungle interior and sprawling coast) will tick the box.
Where to stay in Palomino

On a budget: I stayed at Tiki huts in Palomino which had been recommended to me and after a reasonably long stay at the Dreamer Hostel in Santa Marta (and it's regular party nights), I was ready for a bit of quiet time. However, if you do want somewhere a bit more lively or thoroughly enjoyed The Dreamer Hostel in Santa Marta, you'll be pleased to know there is a sister The Dreamer Hostel in Palomino.

For hotels: Palomino is tiny so there are only a few hotel choices. Here are the most popular options (according to Trip Advisor) with Hotel Playa Mandala (and it's beautiful netted beds) winning the the Travelers' Choice Awards. If you're interested in a hotel's green credentials, eco boutique hotel Aite has achieved Platinum Level as a Green Leader.